myHouse for Windows Vista 7 / 8 / 10
Dreams CAN come True! Download a Free DEMO!
NEW features in myHouse
myHouse Facebook
Export 3D building to HTML file

Import AutoCAD DXF file

Rotate 3D scene automatically into a movie

Import SketchUp models

Import AutoCAD DXF file

Designing in 3D and 2D environment in parallel

Extended symbol libraries containing garden, furnitures, pergolas, sunshades and more...

Changing colours and textures in 3D

Wall- and pillar-decor feature

New intuitive user interface

New powerful 3D module

Create movie and animation movie

View your home in photo-realistic 3D and more....
Building a new home or making renovations to your current home should not be frightening. A great deal of time and money is invested in a project with little to no idea of how it will look upon completion. How can you be sure that floor plan is going to look the way you want?
myHouse for Windows is a home design package created with that problem in mind. Not only will it help you layout a full multistory floor plan or a renovation project, but it will let you see the results in full color 3D before hammering the first nail.
With myHouse, you can make extensive changes to your design without any additional costs. Better yet, you can try out different scenarios before making any decisions. Working under Windows XP/Vista/7/8, it is point and click easy. Intuitive icons guide you through daunting tasks like you have a degree in architecture. You never thought it could be this easy!
Interior, exterior, indoors, outdoors, myHouse for Windows lets you design or renovate it all. Here's a small sample of what you can do with myHouse:
* Turn your kitchen into a gourmet paradise, complete with custom cabinets and an island counter.
* Reorganize your bedroom, living room, or any other room without backbreaking lifting.
* Plan a home office addition or expand to the second or third story.
* Layout the dream house you have been dying to build.
myHouse for Windows puts the dream house or addition you've always wanted right at your fingertips. Even if you have never drawn a line or read a blueprint - if you can imagine it, you can create it quickly and easily with myHouse!
The suggested retail price for myHouse is $59.95, but you can purchase it directly from DesignWare for just $34.95. DesignWare offers a 30 day money back guarantee so try it out. If you are not satisfed with the program, just return it and we will refund you the cost of the program. We are confident you will be amazed by myHouse and will want to show your friends your creations.
Use QuickHouseTM to get you started faster by picking from dozens of professional design floor plan types. Then, put in the dimensions you want and you are on your way. Tackle roofs faster than any handy man by choosing from our library and myHouse will automatically size the roof to fit your home. Multilevel and split level designs are a snap. Columns, half walls, garage door, skylights, you name it, it is there for you.
Also, myHouse makes dimensioning your floor plan easy. myHouse automatically calculates the length of walls or the distance between walls. Customize your printed plan by showing distances from walls to door or window edges. You can also instantly determine the square footage of a room or the whole house.
Once you're done with your design, myHouse can create a Bill of Materials spreadsheet of all the elements in your design. Keep track of how many of what kind of windows you've used, how many square feet of wall, how many chairs, and more. Insert additional comments and local pricing information to complete cost estimating of the project. Export the data to a spreadsheet, database, or text file so you can use the information elsewhere.
More 3D Power
myHouse is the only home design program with the visualization power you need due to its fast OpenGL based 3D graphics including support to hardware acceleration. Instantly turn your multilevel floorplans into a full view of your dream home or see what your new bathroom will look like. Rotate up, down, and around to get the perfect view. Then, you can paint the 3D view in full color.
Now myHouse palette includes 16M colors, textures, and lighting effeccts. The texture option will give users the ability to test their interior design capabilities. Choose from a library of hardwoods, shingle patterns, wallpapers, and many others. View the effect of a brick exterior and a wallboard interior in full color 3D and use myHouse's DreamScapeTM feature to add background to your design from any BMP,JPG image.
Also, thanks to myHouse's sensational 3D MovieMakerTM technology, you can generate a movie tour of your new home. You have complete control of the camera. Pick your shots and set the length of the movie, then let myHouse do the rest. Walk around the house, through the kitchen, then up the stairs to the master bedroom. You will think you are actually in your new home.
Move up to myHouse now! You'll be delighted with the power, realism and professionalism that myHouse will add to your home design projects.

Photorealistic quality
myHouse provides advanced ray-tracing for high-quality photorealistic image production. It uses information about textures, materials and light sources to produce truly realistic images.
Unlimited Symbols with 3D Modeler
Having the most pre-drawn 3D pick and place symbols was not enough for myHouse. Our extensive library of over thousand symbols covers everything from kitchen to bedroom, deck to home office. Even if the symbol you want does not exist in our library, the built in 3D ModelerTM will help you create it.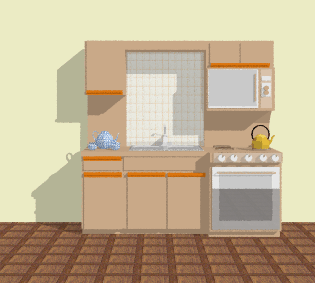 Now in new version you can define textures, materials, reflections, transparency, light sources and more, to create your own photorealistic objects. You can design a whole line of furniture in your own library for use in myHouse. Or, modify to symbols currently in our library to fit your needs. Plus, myHouse's new Library PaletteTM makes placing symbols into your design quick and easy.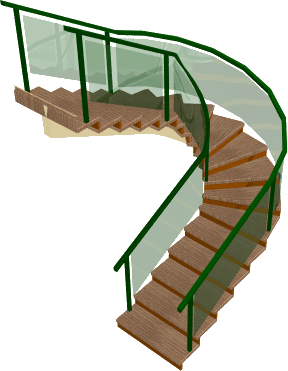 Stair Designer
With the new Stair Designer it is very easy to design and place stairs in your design You can use the various templates or start from scratch and design your own custom stairs.
Roof Designer
The myHouse Roof Designer makes it very easy to create and place a roof on your design. The Roof Designer automatically generates roofs or allows you to manually create or edit roofs and view the results in 3D.
Order the full product for only $39.95!
Minimum System Requirements
* Windows XP/Vista/7/8/10